| | |
| --- | --- |
| Availability: | Out of stock |
| Delivery time: | SOLD OUT Online--Please Call or Text 513-295-2675 for Additional Availability at Another Location |
What is Repeat Treat Club? It's a super fun club where you pay a one time membership fee and get 6 (classic) or 10 (elite) months of free gifts! The gifts will be a combination of all things FLEURISH--a completely well-rounded lifestyle assortment of goodies! Each month is something new and fantastic!
We are currently offering memberships for PRE-SALE for 2023! We sell out every year so grab yours now! This is our 5th year of Repeat Treat Club at FLEURISH!
CLUB MEMBERSHIP DETAILS:
Your INITIAL TREAT for the Repeat Treat Club will be available starting February 1st 2023. Each month (March-July for CLASSIC or March-November for ELITE), you'll get an email at the beginning of each month reminding you that it's a new month and your next treat is available.  If we haven't seen you yet with about a week left in the month, we'll text you one last reminder.  BUT, the very BEST way to participate in Repeat Treat Club is to get a girlfriend (or 2 or a whole group!) and plan a fun day/evening out every month with them and put it in your calendar! You do so much for so many—you deserve this for yourself!
SNEAK PEEK!!! Want a sneak peek at what the February gift will be? We're so excited that we can't wait to show you.  February's gift is a mini loaf pan with matching tea towel, a cake mix single in your choice of flavor and a mini whisk. Perfect for cookin up a little love for Valentine's Day!
The gifts will be available for members to pick up starting February 1st-Feb 28th. After that, you'll have to wait until next year to join so don't wait and miss out! This is going to be our BEST YEAR YET! I'm so excited about the items I've found for you all :) We can't wait to spoil you!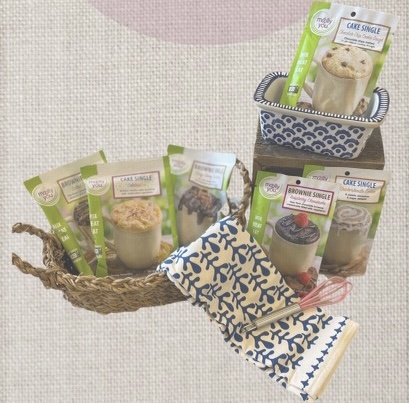 Questions? See the Frequently Asked Questions below and if you have any additional questions, please reach out! Email [email protected] or give us a call at any of the shops.
FAQs
Can I buy two memberships so I can get extra gifts? Memberships are limited to one per person.
Can I gift a membership to someone? Yes! Just fill out the membership form with their information and be sure to let them know they need to pick up their free gift each month themselves.
If I can't get in to get my gift one month can my husband/daughter/friend pick it up for me? Memberships are non-transferable meaning that the only person that can pick up the gift is the member herself
I'm travelling and will be out of town one month. Can I pick up that month's gift next month or can you hold one for me to pick up later? Gifts must be picked up between the first and last day of each month. Gifts will not be given outside of that schedule.
I live out of town. Can you ship my free gifts to me? Gifts must be picked up in one of our three physical store locations.
If I usually shop at Springboro but I want to check out the bar at the new Loveland shop. Can I pick up my gift there instead that month? Sure! You can pick up at any of our three locations: Springboro, Loveland or Hamilton during any given month. You're welcome to change shop locations every month or stay at the same location each month—whatever works best for you.