Posted on
By Brad Underwood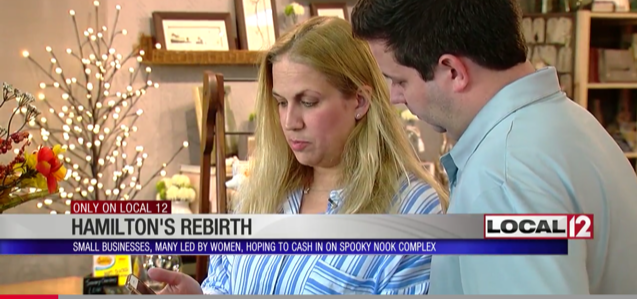 HAMILTON, Ohio. (WKRC) – If you haven't been to Hamilton in a while, it looks a lot different than what you might remember.
Once empty storefronts are now full of life. Business is so good at Petals & Wicks that shop owner Sherry Hoskins recently expanded her Main Street storefront.
"It is becoming a place where people want to come. They want to live here, they want to shop here," said Hoskins.
In less than a year, 13 new businesses have opened and the city says several more are in the process of opening.
Part of the reason more new businesses are opening is because of the announcement that Spooky Nook is building North America's largest indoor sports complex at the old Champion Paper Mill.
"We are really excited for what it's going to do to Hamilton and the surrounding areas," said Hoskins.
Perhaps more exciting for Hoskins is that most of the new business owners are women. The city of Hamilton says overall, roughly 65% of its small business owners are women.
"We're excited, very excited. It makes me feel like women, we are powerful, we're strong. We get out here and make it happen and we're making it happen right here in Hamilton," said Hoskins.
Next door to Petals & Wicks is the home goods store Fleurish, owned by Debra Campbell.
"As a woman, you don't really think about it and then you start looking around and go, 'Oh my gosh, yeah. Everyone here is women and it's really exciting to be a part of it and not being the only woman doing it," said Campbell.
With millions of expected visitors coming to Spooky Nook a year, there's just about something for everyone inside the shops on Main and High streets. From home goods to flowers, stationery products and pet items.
Campbell says her shop has done well in its first two years, but she and all the others can't wait for the Spooky Nook crowd to help pump more money into the city.
"I think what I've seen in the last two years has been a dramatic change. I can't imagine what the next two years are going to be," said Campbell.
Spooky Nook will include both an indoor and outdoor field, 10 hardwood sports courts, a boutique hotel and conference center, restaurants and eventually a brewery.
You can watch the news story HERE